UPDATE 3/1/13 ---> I recently ordered a glass of William Hill Chardonnay. I don't remember the price at the restaurants but it retails about the same as La Crema with similar flavor. If you were interested in another option this might be right for you.
Here is what I know about Chardonnay..
From what I can taste there are 3 different types that I can tell the difference. What I am going to post about is the traditional rich buttery oaky chardonnay that is my personal FAVE my favorite pairing is a rich cheese like a Gruyere or Parmesan with some roasted tomatoes. Honestly I will drink it with anything though because its my favorite. Don't feel bad about drinking a Chardonnay with a steak if that's what makes you happy its right.
The best Chardonnay like this for the price that I have found is this Sterling Chardonnay its usually on sale at the grocery store for $9.00 and tastes just like the $20 or $30 bottles.
This is what the Sterling bottle looks like
(BTW we have gone to their winery.. and the WINE SUCKS!! This is the only bottle worth buying from Sterling but if you ever get to Napa this is a fun winery we learned alot and had some great views but we did not feel the tasting was worth $65 per person. We paid an extra $5.00 for "snacks" which turned out to be some normal crackers that's it!)
Kendall Jackson Chardonnay
(about $14-$17.00 in the store)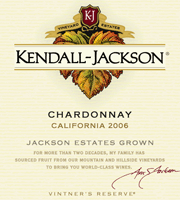 This is the Chardonnay that I will order in restaurants because almost every restaurant carries this! It's a good middle of the road usually it will be around $8.00 a glass in the restaurants which isn't that bad and you know EXACTLY what you are getting. Once again if you ever visit Sonoma Valley this isn't worth a stop, it's a beautiful winery but their Chardonnay's are nothing like this one. Here you will find steel barrel aged Chardonnays which almost taste like a Pinot Grigio. The reds are not that good either. I would skip this if you like rich Chardonnays.
La Crema Chardonnay
(between $18.00 -$22.00 in the store)
I will order this in the restaurants if they don't have Kendall Jackson I have seen it for as cheap as $33.00 for a bottle in the restaurants but don't be surprised if its $50.00. It's flavor is a bit more tame than first two probably more balanced. It tastes more smokey to me though but I like that. Once again we went to their tasting room in Healdsberg, Sonoma and their wines SUCKED!! They have a Pinot Noir in the store and at restaurants which is delish but nothing in the winery that was worth purchasing.